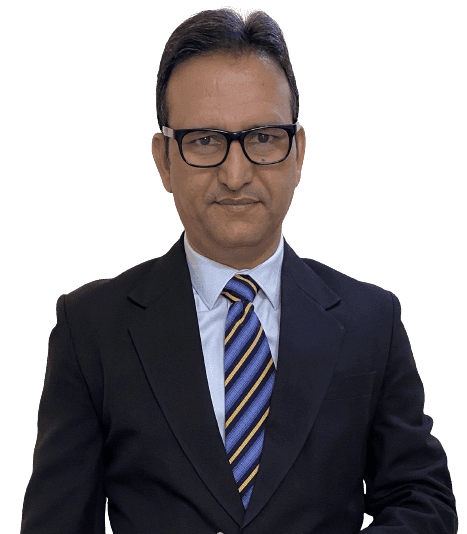 Hi, I am a Sales Skills & Mindset Empowering Expert & BSTA Trained Sales Trainer, Master Facilitator, and AKU trained transformation Coach. I have over 24 years of experience as a Strategic Sales & Marketing head. During this time, I have developed unique insights and expertise in resource optimization (Manpower), performance, productivity, and profitability enhancement across sales organizations.
I have built complete sales functions, designed systems and processes, deployed, trained, mentored, and coached thousands of professionals across diverse cultures, work ethics, and geographies, and created some of the best performing sales teams.
In my last corporate assignment, I led the (UPS – Power backup) product business to a 25% increase in sales over a period of 1 year post taking the charge. The key initiatives were Team restructuring, KAM Focus, existing customer focus, continuous training and development both classroom and on job, structured field and inside sales teams working, systems and processes redesign and implementation.
I feel proud in sharing the following accomplishments:
Delivered 25% growth Y-O-Y for Business in the first year of taking the charge.
Building the Ethical Prescription business for a Large MNC in Indonesia, delivered 263% growth Y-O-Y.
Instrumental in delivering double-digit growth for key brands in a Large Indian MNC based out of Nigeria, efforts being recognised as Outstanding performer of the year 2012.
Had the privilege of Leading & Developing the team that was first to launch Institutional Hospital sales business in India for a large Indian MNC, was able to reach 1 Cr sales for a brand in 3 months of launch.
Successfully delivered 12.5% market share for a high priority nutraceutical brand and regaining the number one position.
There is another part to my story - Being born in a middle-class family with limited resources but great values, my dreams in the beginning were also very small. It was only when I was in my MBA that I realized there is no limit to what you can achieve if you aim for it. I was always ready to take risks, put in that extra effort, had big dreams, and that is what helped me on my journey from Sales Executive to V.P Sales & Marketing in 15 years.
I am very blessed to have gotten the opportunity to learn from some of the smartest brains in the industry. I have explored multiple roles, departments, industries, and geographies starting everywhere from zero. That was neither smooth nor continuous, and I faced many personal and professional challenges, learned from them, which has made me the person I am today and shaped my beliefs.
The biggest learning from my life, which I also share with professionals in sales, is that it does not depend on where you have come from or where you are now. The day you decide to change things, it is Possible. Sales is always about mindset, belief in your own capabilities, and both of these can be acquired with consistent efforts.
My Team Of Experts
Yashwant Mishra
Founder & Director (Benzene Ring Learning Solutions)
International pharma sales trainer & leadership coach having 26 Year of experience in top Indian & Multi national organizations. Expertise in out bound team building, soft skill & behavioural training, train the trainer, psychometric assessment
Daleep Singh Manhas
CEO ( DocIntosh )
Daleep is a seasoned healthcare industry professional with almost two decades of experience working in different positions on both the brand and agency sides of the business. He started his career with Dr Reddy's India and worked with Elly Lili and Indegene Lifesystems before moving to advertising with McCann Health in India. Later, he founded Doceree, a programmatic ad exchange for physician advertising, and currently serves as the CEO of DocIntosh, a professional networking community for physicians. Daleep is responsible for platform development, P&L, business targets, employee engagement, and financial discipline.
My Associations & Work Timeline
Freelance Trainer / Coach & Consultant — KSM Training & Strategy Sales & Skills Training, Coaching & Consulting, Team Building & Motivational speaker

V.P Sales & Marketing -Accutech Power Solutions Sales Leadership / Team Management / ROI / Operations

GM International Business — Chanrai Consultant Nigeria International Sales / BD/ PR / New Initiatives / Marketing der & Director - Curemed Lifesciences Pvt Ltd Sales Leadership / Marketing / ROI / Training & Development

Marketing Head — Ranbaxy Lab - Nigeria Sales Leadership / Marketing / ROI / Training & Development

Founder & Director - Curemed Lifesciences Pvt Ltd Sales / Leadership / Marketing / ROI / Training & Development

Business Head Ethical — Mega Wecare - Indonesia Sales / Leadership / Marketing / ROI / Training & Development

Multiple roles: MSR / District Manager / Hospital Business Manager / Brand Manager — Ranbaxy Lab Ltd Sales / Leadership / Institution Sales/ Marketing Mgt.

Training Executive - Cipla — Conducted New Executive Sales training

Started as MSR - Sun Pharma Ltd Customer visits, Sales Achievement